Features
> Lost And Damned Fansite Event: Outbound
Lost And Damned Fansite Event: Outbound
My journey started at Newcastle Airport at about 10:45 AM on Monday the 9th of Feb, 2009. I guess you could say the whole experience started the minute Rockstar Games' webmaster Mike emailed me about the opportunity on Monday the 2nd of Feb. Last year when I went to New York to preview Grand Theft Auto 4, I flew to Amsterdam on a connecting flight. This time I opted to fly to London Heathrow. I've been there once before and I know it's a nice airport, plus I prefer to stay in the country if possible. Newcastle airport doesn't fly directly to New York for some reason, so flying down to Heathrow seemed the next best solution. While I was sitting in the departure lounge I only really had one thought in my mind... "Please don't let me be sat next to a baby". And guess what? I was sat next TWO of them! Quite possibly the only two on board too. But luckily they were well behaved, and the flight was only an hour or so anyway so I could have just about managed. I left Newcastle at 12:15 and arrived in London for about 13:30. Luckily the way the flights had worked out, I only had about an hour until my next flight to Newark airport, so I had a stroll around the airport then took a much needed toilet break. Why you needed to know that, I have no idea.
It wasn't long before I was boarding the flight to The US of A. Before I left Newcastle I changed my Heathrow to Newark seat and opted for a window seat at the back of the middle section of the plane. It worked out perfectly too because I had two seats completely to myself. The only problem was the two guys in front of me who pretty much wanted their seats to go completely flat on my lap. As I sit here writing this, I've got to have the laptop at a stupid 45 degree angle because the chair in front won't let me lift up the screen properly. I can't complain though, at least I'm on my own.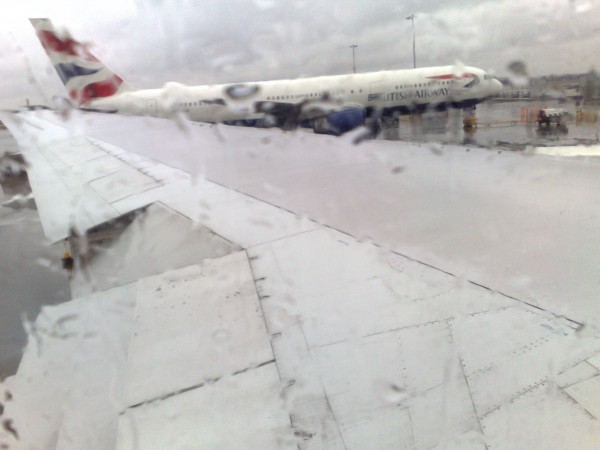 The TV on the plane is pretty awesome. There are some interesting movies to watch, like Transformers and some newer things like RocknRolla and something else. I tried to take a photo of the playlist in the magazine but it came out blurry and crap, and people were looking at me weirdly for taking photos of pretty much nothing. The food I got on the plane was rather nice too. Chicken Ratatouille. Was actually very nice considering the amount of peppers in it. Got a small salad with that, a nice piece of apple pie and a cup of tea. I also decided to try a small bottle of French red wine. I'm not a wine drinker at all, I usually hate it. It tastes like vinegar to me, but I want to open my mind and try different things a bit more so I gave it a shot. It did taste quite a bit like vinegar though... But I drank it. 12.5% acohol, so after downing it to get rid of the taste, it lightened my head a bit.
I watched James May's 20th Century while eating my lunch on the plane. Was an interesting show about mechanical hearts, scuba diving, G-Forces and James' brain. Then I watched an episode of Family Guy which was, as always, extremely funny. What made it better was just last night I watched the double episode of South Park where they pretty much do a total spoof of Family Guy and some of the points they make about the jokes being completely random and unrelated to the plot are completely true.
I had to fill out my visa application again, despite doing it online 2 days ago which was quite annoying. The cabin crew guy says because the system is new, they want paper copies too, but then that beats the whole point of doing it online in the first place. What a waste of time.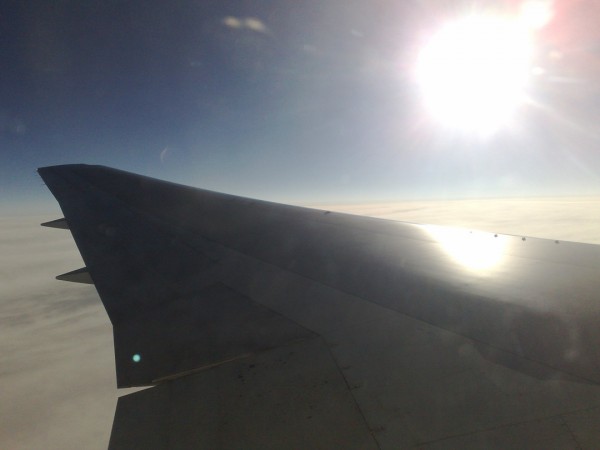 Anyway, as of right now there's about 5 hours left of my journey. I've been on the move for about 6 hours and god knows how many miles I've covered, but I'm enjoying the flight so far. I think this has actually been better than last year's trip so far and it's mainly down to having a seat on my own. Amazing what some room to move, and some peace and quiet can do for you.
Feature Stats & Info
Last Updated: 13th Feb 2009
Feature Views: 9606