Features
> Lost And Damned Fansite Event: Final Day
Lost And Damned Fansite Event: Final Day
Despite going to bed at 2 AM, falling asleep with the tv, laptop and light on, then waking up at 4 AM and turning everything off before going to sleep properly, then waking up for real at 6 AM, I felt alright. Quite a bit hung over though, but that was my fault for drinking so much last night. Actually I blame Rockstar for the free bar... You've got to take advantage of it, right?
More Details About Today Coming Next Week....
I quickly packed my suitcase and pretty much emptied the minibar into my bag (muahaha), then went downstairs to see the other UK webmasters.
A while later, we walked around New York looking for some cool shops. For whatever reason, we didn't go to Times Square though. I guess because the other guys went there on the first day before I got there, so I've now been to NY twice without actually going to Times Square properly. Couldn't find anything that I wanted to buy in the other shops though. In fact I couldn't really find any shops that I wanted to go in at all, which is kind of shit.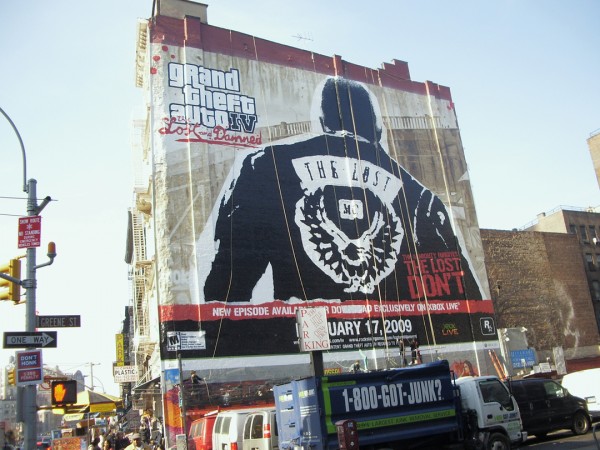 We went back to the hotel and waited for our car which picked us up at 4 PM. I got dropped off first at Newark Terminal B, and the other 3 guys went to terminal C. Unfortunately my flight leaves at 8:50 PM whereas everyone elses leaves at like 7, so I've pretty much had 5 hours to waste at the airport. After finishing up writing this, I've got about 2 hours left to wait. Just bought myself an I[heart]NY tshirt for $11 which I think is a pretty good deal.
Hopefully I'll be able to board the plane in the next hour or so. I'd rather sit there (hopefully on my own) than hang around in the lobby being bored out of my head.
Awhile Later...
Well, I'm back in the UK now. At Heathrow airport where I've been for the last 2 hours. Basically some dude was ill on the plane at Newark last night, so they had to find his bags and take them off the plane and stuff, which delayed us by about 40 minutes. So even though we got back to the UK in 6 hours, I only had 5 minutes to get onto the next flight back to Newcastle. I missed it, obviously. I had to get a ticket for the next flight which wasn't until 12:45, so I had 3 hours to waste at the airport. Luckily I was allowed into the British Airways lounge, which is pretty nice, but I'm still bored out of my mind.
The actual flight from the US back over here was alright I suppose. It was full of bloody Americans though, which sounds obvious, but I expected there to be more Brits flying home than Americans going on holiday. Why are most of them such arseholes though? As usual, the dude in front of me put his seat so far back it was practically in the row behind me. The fat chick behind me was chomping away on some chewing gum making as much noise as it's humanly possible to make with your teeth, and half of the other people on board were shouting into their cell phones despite being told multiple times to turn them off. Retards. Obviously all American's aren't completely stupid, don't get me wrong. Just the vast majority ;).
I basically just went to sleep for the whole flight. I got the chick at the airport to get me a window seat near the back, and my plan worked because I had a row to myself again. So I just lifted up all the arm rests and made a little bed across all 3 seats. Woke up a few times to get food and drinks, but I probably slept for 3 of the 6 hours which was alright. Time went by quite fast.
I'm just about to get the short flight from London to Newcastle now, and then I can go home... It's been 14 hours since I left the hotel, and I've spent about 9 of those hours sitting around totally bored.
DELAYED AGAIN!
Just got on the plane... Only to be told, because of the snow, Newcastle Airport is now closed, and most likely will be for the next 5 or 6 hours. So there's nothing we can do at the minute. Sat on the plane, still bored and stuck in London. Brilliant how things have worked out!!! All because of that sick person in New York, it's now going to take me god knows how long to get home... It's a shame too, because apart from this really bad journey home, everything else on this trip has been amazing.
The Last Train Home (Well, Almost)
Having discovered that Newcastle airport is completely shut and that I'd pretty much be sitting in Heathrow airport for another 6 hours at least, without a guarantee that I'll even get a flight, I decided to take action into my own hands. I bought a ticket for Heathrow Express (£20) and took the train into the centre of London. I then had to get the Tube to Kings Cross, where I proceeded to spend £133 on a train ticket to get back up to Newcastle. The train left at 15:30 and it took about 4 hours to get home.
Once I'd got home, thanks to my dad picking me up from the station, I emailed Rockstar to explain the situation. Luckily they will be able to get a refund for the flight I couldn't go on, and they said they will be able to reimburse the money I spent to get home which is very kind of them.
Overall the trip was amazing. Last year we went around most of the tourist attractions. This time we were mainly given a free roam of the city, with a number of events which Rockstar specifically picked us up for. The Lost and Damned is a brilliant game. I'm really pleased by how it looked and felt when we were playing it. Multiplayer actually seems to be a lot more fun than GTA4's. I can see myself going online and playing these game modes rather than just free mode on GTA4.
Only thing left to say is thanks to Rockstar Games once again, and the other fansite webmasters for giving me another unforgettable experience in New York City! I thought Rockstar were amazing after last time, but they've outdone themselves even more after this trip. I run my websites because I love the game and I love what Rockstar do, but to have the chance to meet a load of their guys and preview games before they are released, along with receiving tons of cool stuff from them... Rockstar Games just simply are, the greatest company in the world. Thanks to the 3 Mikes, Diego, Cath, Ifeoma, Bill and Job for their hospitality. I'd also like to thank all of the staff at The Standard hotel. I doubt any of you are reading this, but they were brilliant. Thanks again R*!
Feature Stats & Info
Last Updated: 13th Feb 2009
Feature Views: 8261